From a tobacco shop to a group of companies. We look back with pride, shape the present with energy and look forward to the future. Knowing where we come from makes it easier for us to stay the way we are.
1921 Maria Heiß opens a shop with tobacco products and "Spezereien" on the town square in Eggenfelden.
In 1924 she marries Franz Loibl.
In 1945, after Franz's death, his second wife Theresia Loibl continues the business.
In 1948 she marries Josef Köppl. The marriage is blessed with the children Josef Jr. and Manfred.
In 1950 Josef Köppl starts supplying local pubs.
1960 the business starts with the delivery of cigarette vending machines.
1970 The business is run by Theresia and Manfred Köppl. The wholesale business is expanded through several takeovers.
In 1974 the company is expanded to include entertainment with the first pinball machines.
In 1988 Manfred Köppl separates from the tobacco wholesale business and lays the foundation for the real estate business. In the 80s he meets his future wife Hella. The couple is happy about their children Michael, Johannes and Teresa.
In 1992 Hella Köppl takes over the retail business and expands it to include gifts and books. A branch at Schellenbruckplatz in Eggenfelden is added.
In 2000 the company begins digitalisation via its own internet provider. The entertainment and real estate divisions are expanded. The internet provider is sold again, but the idea of digitalisation remains.
In 2010 Michael and Johannes Köppl return to the company after their years of training
In 2014 the two brothers set up the investment division.
In 2019/2020 Martina Erber takes over the management of the real estate pillar and Benjamin Hoyer the management of the participations pillar.
In 2020 the Gauselmann Group participates in the entertainment pillar as a strategic partner.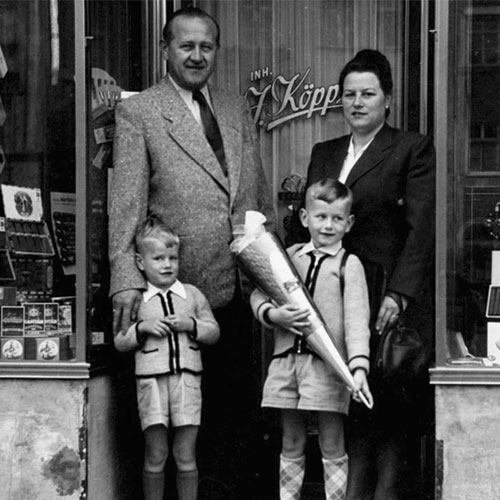 The farther back you can look, the farther forward you are likely to see.